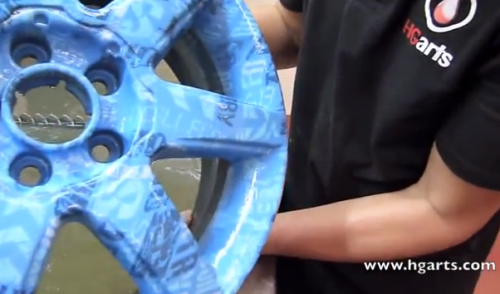 For the print design lovers. Personally, I really enjoy on watching different type of print designs such as packaging, posters, business cards, even the details on a wine bottle. But what I am going to show you is going to blow your mind. It is not an illusion or playing tricks your mind. It is the next level of printing: water printing! Yes, you heard it right! And the most effective thing about this method no need of spray paint or brushes. Therefor no mess!
As HGArts explains on the FAQ sheet:
The Hydro Graphics process is worldwide used to decorate items that vary from Airplanes interiors to very small items like cell phone cases. Films can be applied to all kind of materials including plastic, wood, fiberglass, metal, and ceramics. For the most part, if the item can be dipped in water, the water transfer printing process can be applied.

This process utilizes a water-soluble film that contains the printed designs. Once an Activator has been applied, the film dissolves and leaves the ink on the surface of the water. The process requires a good preparation, the item to be decorated is first coated with a primer. After the primer dries, a base coat paint is applied to match with the pattern. So, for for example, wood grain prints often utilize a brown base-coat and many camouflage patterns use specific color base.
For full story you can visit HGArts. Click the image below to view the video.