Retro, shiny, pop culture and vintage are the few elements that we could see in a James White's poster. James White was born in 1977 and calls Dartmouth, Nova Scotia, Canada his home. His parents were never able to keep typewriter paper in the house as James would steal it for drawings as early as the age of 4. Upon graduation of high school he attended a Graphic Design course in his hometown where he was introduced to Photoshop and Illustrator, tools he still uses today. His professional design career began in 1998 where he cut his teeth designing websites and print campaigns.
James never stopped creating and working on his own projects that took up his evenings and weekends which resulted in the creation of Signalnoise Studio. James' personal projects gained recognition in the industry and led him to working with Toyota, Universal Music, Nike, MTV, Google, Wired and many other clients.
Today James is focusing on various pop culture artworks, creating some pieces to compliment his favorite films, movies and toys. And talking about favorite films, James dropped by on Lynda.com and gave us a few tips on how he starts his designs, in this case with the poster of the classic horror movie of a shark, Jaws.
Below are few works from him that can be purchased on his website. Enjoy!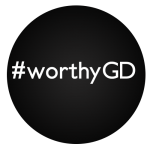 There are graphic designers that must be recognized therefor I create this section called #worthyGD. If you know a designer that his/her works are incredible, tweet about him/her by writing the name with
#worthyGD
.